BUSINESS IDEA
A Company with a specific Know-How fully dedicated to the development of a new family of Unmanned Aircraft, with a weight spanning from 25 to 50 kg. The synergies with OMA high skilled resources allow to minimize time-to-market, costs and risks: an advantage for civil and military customers.
Mission
To generate wealth for the Company in terms of revenues and adequate ethic margins through an own designed fully integrated unmanned aircraft line of products. Economic benefits for the Country through the access to the wide UASs promising market, training a new generation of high skilled engineers and creating a high-tech reliable supply chain. OMA is entering in a new Core-Business. 
Founded in January 2017 
by OMA with 6 senior high skilled
aerospace managers
Current Design and Manufacturing
Integrated Product Team:
30 total engineers + 7 senior advisors
Risk Reduction Prototype 2018
First Flying Prototype 2019
+ 2 pre-series UAVs 2019/2020
production rate from 2020:
6 up to 20 systems (10 up to 60 UAVs)
Philosophy
OPERATIONAL FLEXIBILITY: Integrated Product Team organization, based on skunk work model, to improve the Process Control and to reduce the time-to-market
CONCURRENT ENGINEERING: Design activities carried out in parallel and in an integrated way with Industrial Engineering and Manufacturing to optimize the product total performances and costs
PRODUCT LIFECYCLE MANAGEMENT: 3D-Digital Mock-Up extensively used, with PLM based on CATIA®, ENOVIA® and DELMIA®, applied to Structures and Systems, generating Assembly Instructions and Paperless Maintenance Manuals, to reduce the Life-Cycle Cost. Verification and Validation Activities, HW and SW, carried out on dedicated Rigs and Iron Bird for the Aircraft Integration in order to reduce the Program risks
DATA MANAGEMENT: Reduction of Bureaucracy using technical and productive, centralized Program DB to have a robust configuration control. Full traceability of the requirements through the whole Life of the Program (SW DOORS®) to be responsiveness towards customers missionization requests
RISK SHARING PARTNERS & SUPPLY CHAIN: Selected on the basis of recognized industrial capacities and capabilities, with strong financial reputation, in order to reduce non recurring and recurring costs
QUALITY MANAGEMENT SYSTEM AND PRODUCT CERTIFICATION: Compliant with EN 9100:2018 and ISO 9001:2015, with EASA Regulation (EU) 748/2012, with ENAC requirements to obtain the Project Certification (ref. Edizione n.2 del 16 Luglio 2015 art.13), with Armaereo requirements about approval and military airworthiness Aer P.2/Aer P.7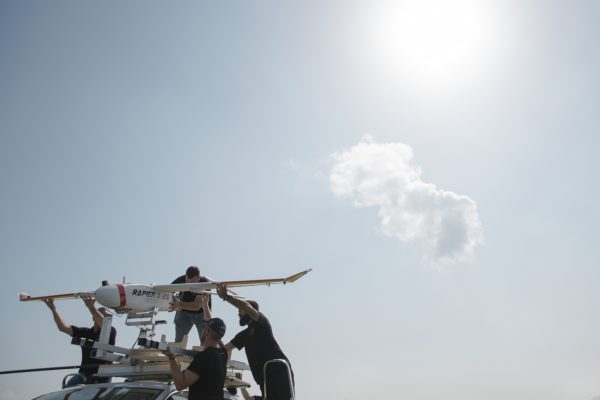 Rapier X-25 is a Small Tactical UAS, with a MTOW of 25 kg, facing some of the most challenging constraints of its category (Light Weight UAV). Despite the extremely reduced weight, the two ISR mission's requirements are satisfied: high endurance – exceeding fifteen hours – and integration of top in the class sensors.